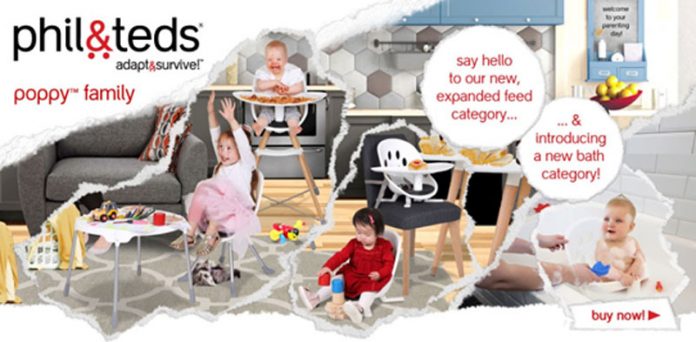 phil&teds, the Kiwi innovators famous for designing the world's first single-to-double inline buggy, have yet again pushed the boundaries of nursery design, inspiring parents to adapt&survive their parenting day, during feeding time and beyond.
The award-winning baby goods brand, have cleverly redesigned and reinvigorated their popular poppy high chair – drawing inspiration to become a powerful influencer on easy lifestyle.
Chief cook & bottle washer, Campbell Gower says phil&teds looks to emulate this with adaptable product sets that fits with parents lifestyles.
"Parents need products that adapt with their family's growing needs. That's why we first invented poppy, the high chair that converts to a toddler sized 'my chair', providing years more use. Fast forward to now, and our 'poppy family' offers new adaptability, like never seen before.
"We've refined our award winning poppy high chair by listening to what parents want – a sleek design, that's complementary to their home aesthetic, whilst being super hygienic – something that will resonate well with parents in this current climate."
"We've also introduced poppy in wood, perfect for parents who desire more of a Scandanavian aesthetic. It's an effortlessly cool & contemporary take on poppy, that fits with any home.
"Better still, we've added new accessories for poppy making it adaptable for future use. Once your little one has outgrown poppy in highchair mode, there's years of use ahead, not only with 'my chair' mode but now with a full poppy range, which allows parents to convert easily convert parts of their poppy high chair to a toddler table (with half of the poppy legs – yes really!) and a booster seat OR a floor chair.
"We all know that the parenting day looks a little different for every family, so our poppy family gives parents the freedom to extend the use of their poppy with these cleverly designed accessory kits – at price points that please."
And because designing innovative, adaptable products sits at the core of the brands ethos, phil&teds have created a whole new category for parents at bathtime. By taking inspiration from the simple poppy seat design, a whole new poppy bath seat has been created with strong suction cups on the legs – so that parents can adapt&survive with ease at bath time.
Visit philandteds.com to learn more about the NEW poppy family, and stockists.