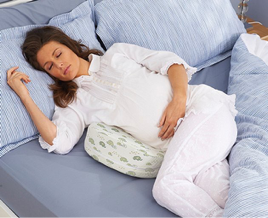 Little Chick London's hugely popular 4-in-1 Pregnancy Support Wedge, which was noted in the Independent's Top Ten Pregnancy Cushions and a MumsNet Best for maternity wedges.
The popular 4-in-1 Pregnancy Support Wedge is now available in two new gorgeous designs – Savannah Elephant in soft sage green and Starlight with white stars on grey.
Whilst the best-selling Maternity Support Wedge is still available in its original natural bamboo, which is naturally anti-bacterial, anti-wicking and fully breathable; the two new designs offer a stylish alternative for fashion-conscious mums-to-be. Both have 100% cotton covers which is naturally cooling and breathable, with removable washable covers.
The Little Chick London 4-in-1 Maternity Support Wedge gently supports the tummy, back and hips for mum-to-be when sleeping on their side and is designed to contour the natural shape of the baby bump. It offers soft, but stable support.
Happy customer Amie MacKinnon left a five-star review for the product stating: "The pillow has been a lifesaver for my pregnancy back pain, it has so many uses, and I love it!" Gemma Smith also left a review commenting: "So happy with the Little Chick London Pregnancy Wedge Pillow, it has made night-time so much more comfortable!"
For more information, contact Rachelle Harel – hello@littlechick.london