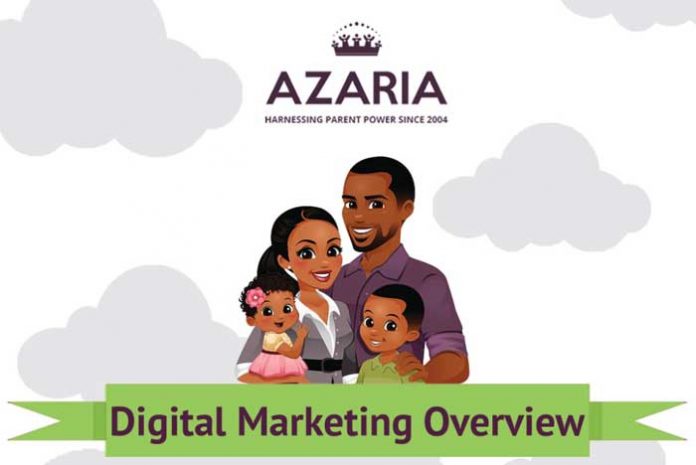 Azaria, who are already well-known for creating engaging campaigns for brands in the parenting sector, has now added a fully rounded, cross-platform, digital marketing arm to its business.
As part of the Company's continued mission to innovate, this new-for-2021 Digital Marketing Division will include services such as Google Shopping, Shopify, Smart-tech Remarketing, SEO/PPC campaigns and expertly created Social Media tracking and conversion advertising.
Headed up by a newly appointed Digital Account Director, who joined the Azaria Team in March, Jason Denny brings 14-years industry experience, gained from senior roles in both in-house and agency environments.
The addition of this new offering will enable Azaria to provide its clients with a wholly integrated, 360-degree, communications service.
MD Amber Steventon commented: "For many years we have championed clients through our hugely successful marketing campaigns. However, customer's shopping habits are ever-changing and accelerated by the recent pandemic, they are using online platforms more than ever before. It's become very clear that there is a healthy focus on the results digital marketing can deliver businesses when done well, and particularly when used in conjunction with traditional PR activities."
"Having the ability to offer our clients a revenue generating digital strategy is a crucial component of the modern media landscape. Jason's addition to our Azaria Family gives us the skills we need to deliver impactful digital PR campaigns, from cut-through social media ads to large scale creative concepts that will make a measurable impact on our clients' business goals."
Digital Account Director Jason Denny added: "Digital communication has always been my passion, but I am also a Dad of three, so to now have the opportunity to oversee the digital marketing strategy for Azaria in the parenting sector and essentially combine both my passions together is really exciting. I am really looking forward to delivering highly effective campaigns that drive real impact."
Additionally, Emma Waterfield, who has been at Azaria for over six years and Emma Wardle, who joined in July 2017 have both been promoted to Account Director positions, while Laura Baranowski moved up to Account Manager.
Dominating in specialist PR with its expertise in this arena for over 17-years, Azaria knows how to create a must-have campaign and help brands become household names.
For more information on Azaria visit www.azariapr.co.uk, follow what they are up to @azaria_ltd and say hi to Amber and the Team at hello@azariapr.co.uk.