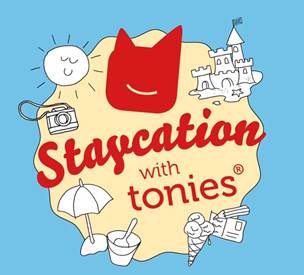 The 'Staycation' campaign will run until Monday 2nd August and is available for products purchased from its website.
With the school summer holidays just around the corner and many families getting ready for their upcoming travel staycations, tonies is offering the chance for parents to get 10% off its entire collection for those looking to keep little ones occupied whilst on their travels this summer.
The 'Staycation' campaign will run until Monday 2nd August and is available for products purchased from its website on https://tonies.com/en-gb/, using code 'STAY10'.
As a no-screens, safe and wireless audio system that plays a whole host of kids' classics, the Toniebox makes for the must-have staycation essential for families. The Toniebox from tonies is also the perfect screen-free sleep aid for children when travelling, with no blue light emissions – often associated with sleep disturbance or circadian rhythm disruptions – it encourages quality sleep whilst on the go.
A recent study by tonies found that it takes parents a whopping 45 minutes to get children to sleep in the summer months. There are several reasons for children taking longer to get to sleep. Over half (55%) of parents blame the increased daylight around bedtime, and 40% think it is due to children being more active and playing outside for longer during the day. Screens are also an area of concern: over a third (35%) say it takes their children longer to get to sleep in summer due to more time spent on screens when off school during summer holidays.
Helping set children up for a good night's sleep whilst away from home, the Toniebox is perfect for adventures close to home and further afield as once charged the Toniebox is completely mobile for seven hours. tonies, has also recently launched its new tonies Headphones, setting up little listeners to enjoy stories, music and educational content on their Toniebox wherever they go. Pairing perfectly with the screen-free, safe and wireless Toniebox, they make for the perfect children's accessory when travelling with the Toniebox, in order to keep little ones occupied on their adventures.
To celebrate the launch, tonies has teamed up with Alexander House Scotland to offer parents a chance to win a two-night family stay at the luxury self-catering property in the heart of Scotland. The lucky winning family will also receive £500 spending money for the trip and a bundle of family-friendly goodies, from a Mini Micro Deluxe Gruffalo Scooter, with matching helmet, to a Family Pass to Peppa Pig World. Other travel prizes for kids include a ride-on kids' suitcase from Trunki, and pyjama set from Jojo Maman Bébé.
Pinky Laing, UK Partnerships at tonies comments: "As the ultimate travel companion for children on the go, tonies could not be more thrilled to be offering our collection of summer essentials at great value for parents this summer – to enrich families' travel adventures.
"At tonies, we know that keeping children entertained during the holidays can be challenging. From those long car journeys to fitting in a nap time, there's always the temptation to indulge children in screen time. This staycation period, we're encouraging parents to treat children to a screen-free, educational and fun alternative with our interactive, portable audio player.
"To celebrate the launch, we're so excited to be partnering with such prestigious and well-loved parenting brands to offer one lucky family the ultimate summer staycation, with their Toniebox and Tonies in tow."