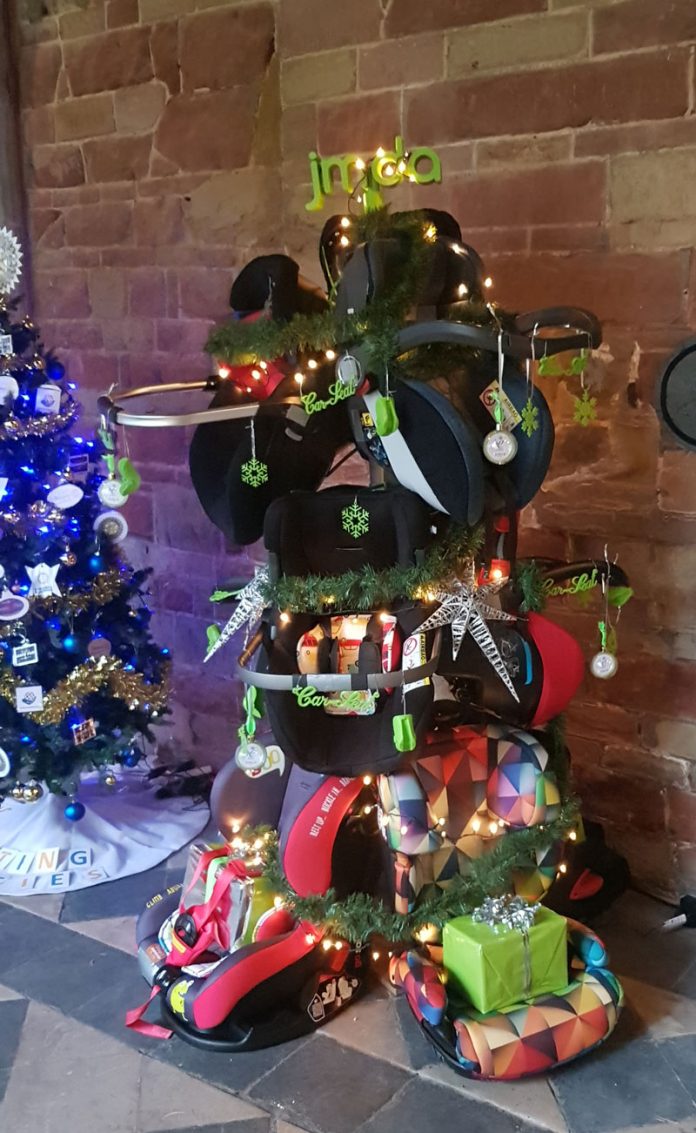 At this year's Worcester Cathedral Christmas Tree Festival 2021, JMDA Design highlights the ongoing challenges of child car seat recycling, as part of their KOOL recycling campaign.
The Christmas Tree Festival which is a highpoint in the calendar at Worcester Cathedral, opened to visitors from Wednesday 1st December to Sunday 2nd January 2022, celebrating the wonderful designs created by local schools, charities and businesses.
Since 2017, JMDA Design, based in Pershore, Worcestershire has been spearheading and leading the conversation to find a long-term solution for the recycling of child car seats. The issues surrounding recycling child car seats are multifaceted due to their solid and mixed materials structure, but the main challenge is the logistics to collect and deliver car seats to the waste management facilities.
Chris Raynor, General Manager at JMDA Design explains why we need a child car seat recycling scheme, "In the UK alone it is estimated that some 2.3 million child car seats are sold every year. What happens then, when a child during and up to 12 years of age, no longer has use of the seat? We have setup KOOL Recycle (Keep Out Of Landfill) https://koolrecycle.co.uk/ for consumers, retailers and manufacturers to follow our journey in raising awareness of the problem of recycling child car seats and their impact on landfill."
JMDA Design is a team of talented designers with offices in the UK, China and Italy, delivering product design solutions to a global client base, specialising in the design and development of children's car safety seats and nursery products.
JMDA was honoured to receive a prestigious Queen's Award for Enterprise for International Trade for their outstanding contribution to child car seat safety globally. Winning two sought-after Red Dot Awards for design, signifies their elite skills in innovation, with experience to deliver a complex brief to fruition.
For more information about JMDA Design services or their initiative to help recycle child car seats, call +44 (0) 1386 426100 or alternative email design@jmdadesign.com.