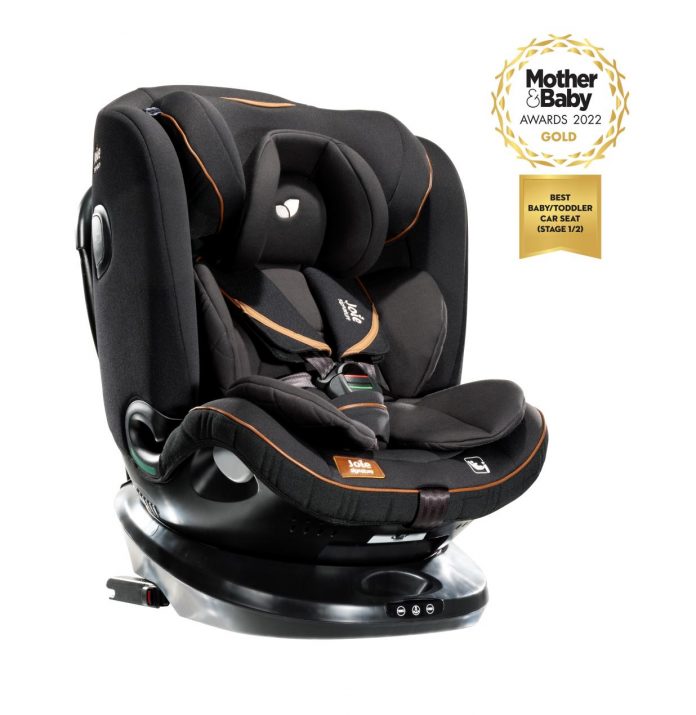 Joie is proud to announce its newest arrival, the i-Spin Grow, which made its grand entrance by scooping a Gold award at the 2022 Mother & Baby Awards. 
With years of 'are we there yet' ahead, this safety seat spans from birth to booster and packs in the most musts including i-size and 360o spin.
Growing passengers will be set for every journey from that first trip home from the hospital to the very first day at school along with every important milestone in between and beyond. The easy to use, one- hand 360o spin, turns to you to make buckling in even easier than ever.
The extended rearward harness and belted booster mode make sure that your pint-sized passenger will always have the safest ride. The Tri-Protect headrest offers layer upon layer of protection including state of the art memory foam. 
Younger travellers can lie back in comfort thanks to the 6 position recline which adjusts on demand whether your little one is rearward or forward facing.
The one-time ISOFIX and top tether install are so easy to use – and the best bit is that once you're done, there's no need to adjust or reinstall. Thanks to the latest VeriFit install technology, i-Spin Grow has a custom sound and light display that tells you whether any aspect of the installation has gone awry – so you can always be certain that your child's seat is secured correctly. 
The i-Spin Grow was reviewed by a panel of real mums who praised it for its 360o spinning function that makes it easy to use, its stylish design and comfortable headrest. 
Each year the Mother & Baby Awards put the very best baby, pregnancy and new mum products on the market, to the test to bring consumers inside knowledge before they spend.
A battalion of real mum testers have put all of the products through their paces by living with them for a month before giving a real and honest opinion. Describing the seat, one reviewer said, "Being able to spin the car seat round means no awkward angles to get baby or toddler in. Baby looks comfy in the seat and it is easy to tilt when baby is sleeping without waking – this is definitely one to recommend."
Head of Product Management at Joie, Damon Marriott said: "We are so pleased to hear that the i-Spin Grow was such a hit with parents and we are excited for our consumers to be able to get their hands on it. 
"A Mother & Baby Award gives consumers confidence in the product they are buying and in the brand they have chosen – so they know when they buy a Joie product they are getting the best for their child."
Email uksales@joiebaby.com for further information.