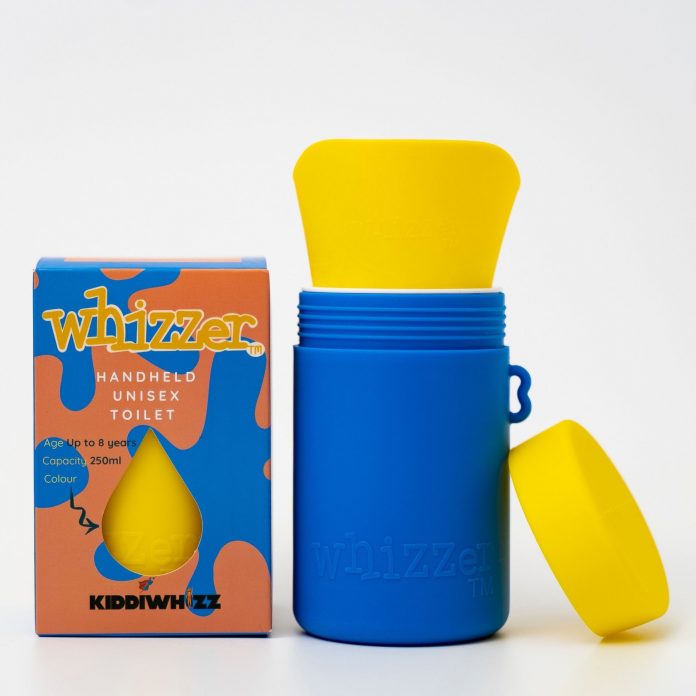 Kiddiwhizz, manufacturer of the Whizzer – the first handheld unisex toilet for kids, has appointed bébélephant as their UK distributor.
The Whizzer was launched earlier in 2021 and has already proved to be a great success, with major stores including Robert Dyas set to range the product by the year end.
The concept was the brainchild of inventor and mumpreneur Zoë Chapman (37) who came up with the idea 6 years ago when toilet training her own son. Knowing the parenting pain of growing kids needing the loo on-the-go, she used her background in product design to invent the only leakproof and compact toilet solution made from high-grade silicone for kids up to the age of 8. This award-winning parenting travel hack has proved to be a game-changer for toilet-training, a must-pack for families and a lifeline for those using it for medical reasons. The adult version is highly anticipated and due early 2022.
Announcing the appointment of bébélephant, Zoë commented "I showed the product to Elliot recently and was immediately drawn to his own enthusiasm for the concept. I was particularly impressed by his company's warmth and determination to help me and the Whizzer succeed."
Commenting on their appointment, Elliot Bishop, Managing Director of bébélephant noted, "This is a great hack for parents – but one cannot be blown away by the work ethic and drive of the creator, Zoë, who would make a great case study, were one needed – on how to launch a product. The Whizzer has been met warmly by the trade who are already waiting for the adult version – the possibilities are endless – from Uber drivers to those constantly getting caught short!"
For trade enquiries contact: bébélephant | elliot@bebelephant.com | 020 8202 1467