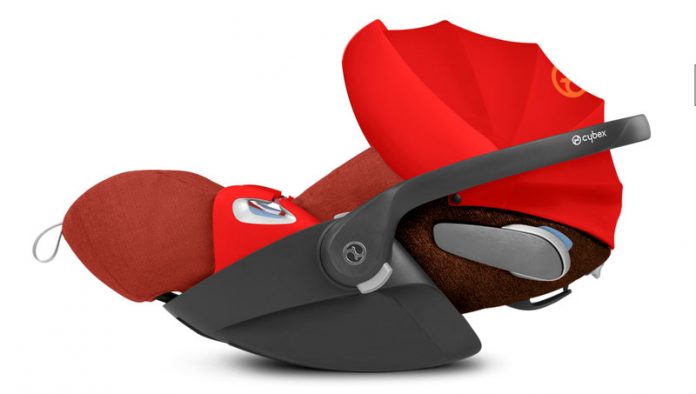 Cybex is thrilled to have won four MadeForMums awards this year.
Cybex fought off stiff competition to win four awards including the prestigious Triple Tested Best Buy Award for its infant car seat, the Cloud Z i-Size. With three rounds of testing, over 300 car seats were tested for safety, ease of fitting and use, functionality, value vs. price tag and much more. The Cloud Z i-Size was praised for its 180° rotation mechanism for easier entry and exit from the car, full lie-flat position and ease of installation.
The e.PRIAM won innovation of the year while its popular platinum pushchair, Priam, received two awards, including gold in the travel system package over £700 category and silver for the newborn pushchair over £700 category.
A technological innovation, the e.PRIAM combines smart features which allows parents to travel more, carry more and fit more into their busy schedules. With a built-in motor, the sensors in the handlebar monitor pushing and pulling pressure while a smart algorithm guides motors integrated in the frame to add support when required giving parents a helping hand when they need it most.
Tester Lianne, mum of 3, described the e.PRIAM as 'excellent in every way'. She said: "The battery is amazing. It's so smooth to push and very comfy for my son – he loves it. This is by far the best pushchair I've ever pushed! It's very easy to fold and I love how the basket unfolds for more space."
The 4-in-1 Priam travel system offers full functionality and convenience to take a child from birth to four years with just one single frame. The system includes the Lux Carry Cot, the Lite Cot, the Lux Seat and its infant car seat, the Cloud Z i-Size.
Now available in Mustard Yellow, Autumn Gold, Mountain Blue, Khaki Green, Soho Grey and much more, the Priam offers even more luxury with premium finishing touches, including added detailed appliques and a beautiful new stitching pattern on the Lux seat and the Lux Carry Cot.
For more information, please visit www.cybex-online.com