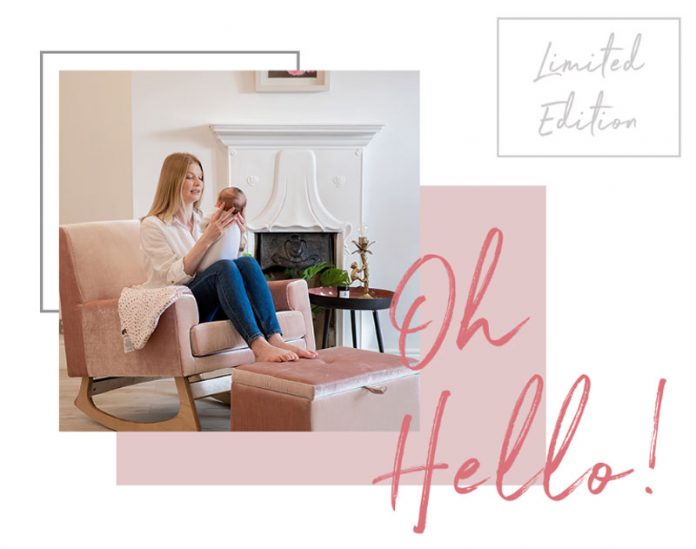 Sustainable Irish nursery brand, Gaia Baby is delighted to unveil its new Velvet Collection. This limited edition offers plush, soft-touch velvet fabrics in beautiful Antique Rose and Assimi Silver.
With a timeless shape and smooth solid wood legs, the new Velvet Collection is a charmingly timeless piece – it would look beautiful both in your nursery, and as a statement chair in your living space. The versatility of velvet means it's perfect for both minimalists and maximalists!
Dramatic by nature, velvet is an easy way to add a touch of elegance to your home.
With an air of romanticism, the velvety soft Antique Rose rocking chair is designed with a vintage feel to perfectly complement any home. The plush pink velvet looks equally beautiful in an industrial or midcentury home as it does in a cosy, country cottage. Assimi Silver is inspired by contemporary neutral interiors with clean, crisp colour palletes. It can easily channel maximalist, edgy charm (pair with a bright coloured cushion) or accentuate a soothing, calm colour scheme (add a neutral blanket to the back).
The Gaia Baby Velvet Collection features their classic combination of style and functionality with extra lumbar support, a wide seat area and smooth anti-tipping rocking motion.
The collection will encompass the following products: Gaia Serena Rocking Chair – Antique Rose, Gaia Serena Rocking Chair – Assimi Silver, Gaia Serena Footstool – Antique Rose and Gaia Serena Footstool – Assimi Silver .
Available to order from Clever Cloggs:
customersupport@cleverclogs.ie
cleverclogs.ie