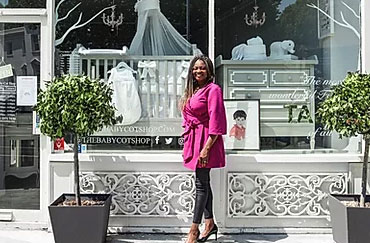 The Baby Cot Shop partners with Fertility Network UK to launch Interiors of Hope Campaign
The Baby Cot Shop is launching a new and inspiring collection alongside it's Interiors of Hope campaign to transform your nursery into a hub for hope, with dreamy bed linens, multi-purpose furniture, and elegant décor in calming colours and adorned in uplifting symbols of optimism and new beginnings.
"A new year needs a new outlook and, after what has been a very challenging year for all, the campaign aims to spread hope and positivity amongst the motherhood community" says founder, Toks Aruoture.
Giving back is an important aspect of business for The Baby Cot Shop, which is why their charity partnership with Fertility Network UK sees that 15% of sales from the new Chelsea Cot will be donated to the organisation to aid in continuing the crucial support and advice they provide.
Gwenda Burns, Chief Executive, Fertility Network says, "We are extremely grateful to The Baby Cot Shop for their generous donation of 15% from each sale of the Chelsea Cot Bed. 2020 was a particularly difficult year, which saw all fundraising events cancelled at a time when our support and services were needed more than ever. This partnership will help us maintain and increase the levels of support and information offered to those who seek our help."
Launched yesterday, the campaign will see support from celebrity mothers and mumfluencers alike, sharing the good vibes amongst their followings.