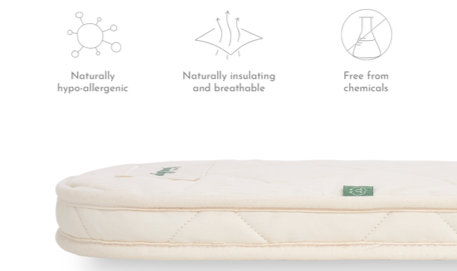 Luxuriously natural mattresses for travel systems.
Famed for creating the UK's first organic cot mattress, The Little Green Sheep is a brand that has had mattress excellence at its core for almost two decades. Passionate about creating natural environments for sleep from day one, the brand not only has the home covered with its lovingly handmade range of natural mattresses that are free from all nasties, but also out and about! 
The Little Green Sheep has an extensive collection of pram mattresses, so parents can upgrade from the cheaper foam mattress that most commonly comes with a travel system and instead have a  Little Green Sheep mattress, that is naturally fireproof, insulating, breathable and hypo-allergenic. Essentially creating the travel system of dreams! 
For the first six months, babies will spend hours snoozing in their pram, so it does make sense to ensure they are sleeping on the very best in comfort and support whilst out and about, just like they do at home. With sizes available for iconic brands such as Bugaboo, to Joolz, UppaBaby and iCandy, The Little Green Sheep has a mattress for some of the best loved travel systems, and are constantly reviewing the range to make sure they are catering to the most popular models. However, if parents can't find the size they need they can opt for The Little Green Sheep's custom-made baby mattress to get a solution to fit every travel system!
From the 100% cotton quilted Herringbone cover to the naturally sourced components at the core of every mattress in the range, the mattress collection is truly exquisite, and with absolutely no harmful chemicals, toxins or sprays used at all. At the core of every single Little Green Sheep mattress is naturally sourced Coconut Coir which acts like thousands of tiny springs to provide even support; while the natural latex, derived from the sap of the Hevea Tree, works like a natural layer of foam to add another level of comfort.
The softest wool is also integral to every mattress from the brand. It naturally absorbs and disperses moisture to create a clean, dry environment that's resistant to dust mites & bacteria growth and is also naturally breathable, anti-allergenic and temperature-regulating.  Not to mention its naturally fire-retardant, so The Little Green Sheep mattresses don't require any nasty fire-proof chemicals to pass British Fire Safety standards.