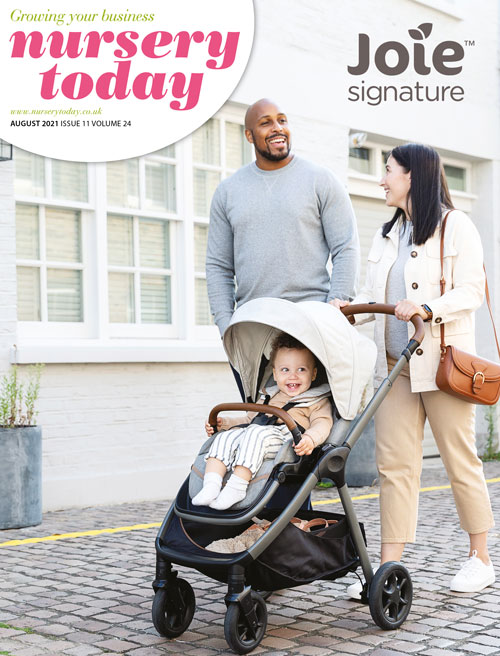 Welcome to the August digital edition of Nursery Today. 
This month we continue to bring you features packed with products that are all available to order now, together with articles of interest by our regular contributors, industry news, and shine the spotlight on Baby Moon Baby Shop in our Retailer Profile. Pramland's John Barker gives his view on the three P's – pandemic, pingdemic, price increases over on page 22.

Shipping costs and stock delays continue to be a hot topic with the good news being that many nursery brands are looking at ways on how to manage these within their own businesses (as highlighted within Supplier Snapshot over on page 48). 
Although retailers are demonstrating a level of understanding as to the rationale behind these inevitable increases and stock delays, conveying this to the consumer is somewhat more challenging. As John states within his article: "We have started to make parents to be fully aware of the potential for more price increases and further delays.
Unfortunately many customers assume this is a sales technique and choose not to heed our advice to order sooner, rather than later." Online4baby's Managing Director, Christy Foster (page 46) gives her view on why bricks and mortar stores are of huge importance to our high streets and unveils their plans for expansion, while over on page 14 FanFinders share the keys to having great online content to increase brand awareness and engagement to enable you to gain dedicated customers, with The Insights Family's CEO Nick Richardson over on page 43 is taking a look at the various media channels currently being used by parents.
Our retailer profile this month shines the light on Grace and Barry Mooney on their bold decision to open their first nursery store (located in Tullamore, Co. Offaly) at the start of a global pandemic. So far, they are 'over the moon' with joy at the response from customers, simply turn to page 16 to find out more.You will notice this month that our cover star is Allison Baby. 2020 was a challenging year for the parent company of Joie, Nuna and Graco.
Although last year was a difficult time for the company and of course many in our industry, the organisation rose to any challenges presented to them and has experienced its seventh consecutive year of growth and also expanded its product portfolio with eight new launches and a new sub brand being introduced. You can read all about it in our cover story starting on page 10. Finally, you will also find our feeding and accessories feature (starting on page 26), Baby Gifts (page 38) and a fantastic round up of our industry's favourite PR companies over on page 44.Happy reading!